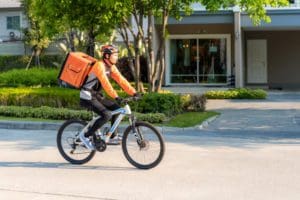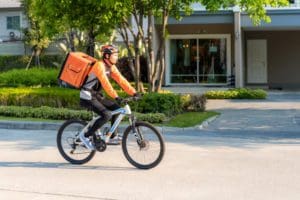 HOW WE BOOSTED USER ACQUISITION FOR A LEADING FAST COMMERCE APP
The global grocery delivery market is on an upwards trajectory. Millions of Dollars are being invested into this new service which delivers the most wanted items, or even the entire supermarket offerings, to your door within minutes. This has led to a number of different players entering the space and some interesting developments taking place.
Our client, a leading grocery delivery, or "fast commerce" company in the UK came to the market to re-shape the supermarket shopping behavior in neighbourhoods across London, Amsterdam, Paris and certainly more metros very soon; offering 24/7 ordering, and training their deliverers to guarantee delivering your order to your doorsteps in under 20 min.
They offer a wide range of items including snacks, drinks, grocery and much more. They stock over 1000 essential items in their stores dotted around major cities. Also, they promise fair prices, no minimum order, and no delivery windows.
The grocery delivery market is very competitive and startups in that area need to act fast, bold, and solve problems quickly. Our clients' founders and management understood that and needed a team who is ready to quickly take ownership of their user acquisition and growth efforts by setting a strategy, frequently adjusting it to meet market's developments, basically a full stack UA team with diversified experiences in different user acquisition channels
Our client reached out to us to support their hyper growth plans, we quickly acted by assembling a team of marketeers, designers, and data analysts that built a strategy that is suitable for such a fast paced industry, a custom creative production framework, and ran a quick competitor analysis to prepare for the kickoff.
Admiral Media gives you the unfair advantage over your competitors due to our in-depth knowledge in performance marketing. We can help you stand out in a fast paced industry or grow over your competitors. Here is how we helped Fast Commerce Company go from zero to 7 figures in monthly user acquisition spend.
Read More: The Top 3 Marketing Basics You Have Forgotten About
Creatives, creatives, and creatives
Achieving success in mobile app marketing requires a solid strategy. But it also requires creative thinkers who can create awesome visuals that resonate with your target audience. Find these creatives, and your app will be just as successful as any other hit app.
We take creatives seriously. So, we build a framework of creative production to make sure we find that killer creative, here is the framework we used;
1. Brainstorm idea: We decided to brainstorm ideas and analyze competitor's creatives twice a week. This helped us create 10s of storyboards and send them for approval.
2. Build creatives and launch the test campaign: After getting a couple of ideas approved by the client, we build and resize for each ad channel. Then we launch the test campaign using an accelerated testing strategy ensuring statistical significance within 1 or 2 days.
3. Creative analysis: Our data analysis team unlocks the hidden findings and gives the UA managers a report on what ads won and why with learnings on what design elements work for the client. Of course we try to use our internal methodology to interpret our results as simple CPA may not be sufficient, but CPM, CPC, CTR, Install Conversion rate or other factors may be relevant.
Scale winners, make variations, and repeat the process.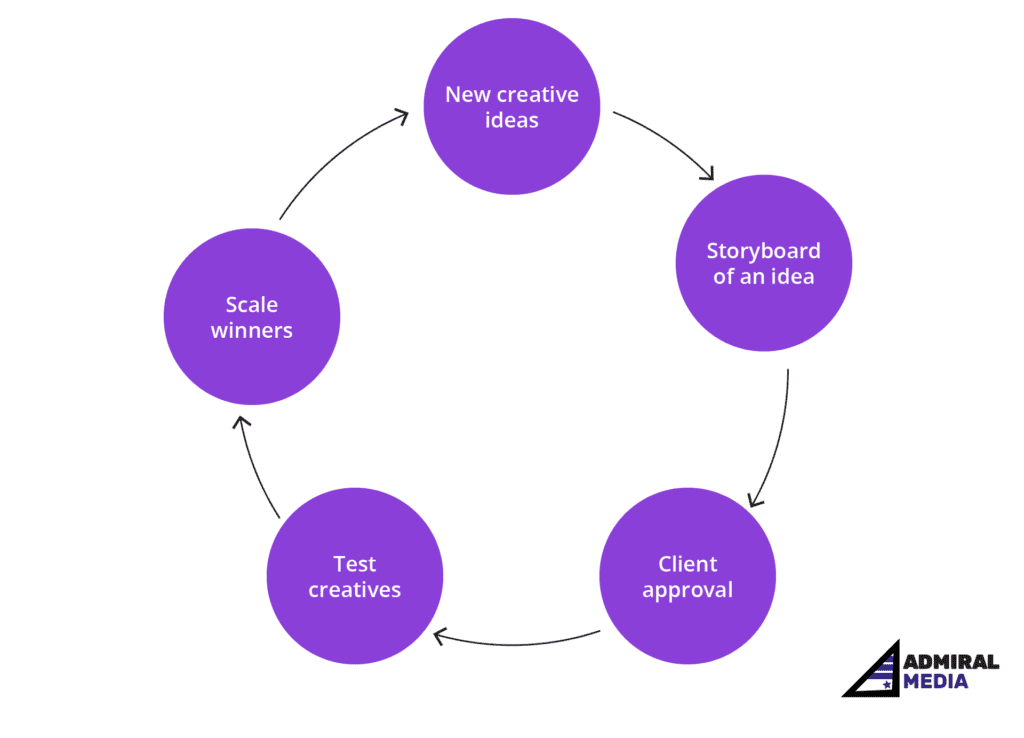 Following this systematic approach, we were able to produce creatives faster and get better performing ads.
Funnel approach
Performance marketing is about understanding the customer journey and having a process in place to measure all aspects of that journey. Then comes the technical part that consists of tracking events and learning.
The advertising funnel approach is important because it will help you build learnings and educate the ad channel algorithm about who your target audience is and what kind of events represent the highest value to your business.
In the funnel approach, you get to build the ad channel sustainably and avoid these 3 growth fails. We started with install optimization and moved down the funnel to sign up optimization and later to first-order optimization after generating enough learnings and enough data within the account. Additionally, we expanded to new ad channels and diversified our user acquisition stack which of course leads to more complexity, not even mentioning the IOS privacy changes which require you to apply some new methodologies to budget your acquisition wisely.