HOW WE SCALED TIER USER ACQUISITION BUDGET TO THE MOON
TIER mobility team is on a mission to change mobility for good with public and private organizations, they're rethinking urban transportation and reshaping our cities' landscapes by offering easy-accessible and affordable scooters and mopeds all over the world.
TIER team started paid user acquisition efforts on FB with ambitious goals to grow fast by advertising their mobile app both iOS and Android versions but they needed a reliable partner that helps in their growth and in localization so that campaigns run in 8 languages including German, French, Swedish and more. Another special challenge promoting a mobility service like TIER is hyper localization – this adds a lot of complexity to analysis and optimization, not even thinking about creatives & copy.
Vincent Adorian, Head of Performance Marketing at TIER reached out to us and we quickly identified a great chance for growth and accepted the challenge. With a full suite of expertise & tools, Admiral Media simplifies the process and makes it easier for big-scale apps to run profitable performance marketing and user acquisition campaigns.
"
"We had growing ambitions and had to find a partner helping us with our international expansion plans at scale."
Vincent Adorian
Head of Performance Marketing, Tier
We did our homework
Head of Performance Marketing, Tier
1. We audited TIER's existing FB campaigns, creatives, and audiences tested. The conclusion was that we knew what demographics were engaging with their ads and willing to ride a scooter or Moped.
2. We analyzed the public user data published by social media companies to see where our target personas are and what channels could be the best fit for us. Based on this analysis, we prepared a plan/roadmap on what channels we should start with and what others should expand to, in later days.
3. We prepared creative briefs, established an approval process together with the client's brand department and built a database for the ad copies. One of the most important parts of any advertising campaign is the ad copy as it has a significant impact on the success of the campaign and having copies in 8 different languages ready in one place will make sure we test these copies easily to find the exact tone that succeeds for each market.
With the above in mind, we proceeded to build a great foundation for Tier. We analyzed and improved the growth stack by starting and optimizing Google, Facebook, and Snapchat ads. Afterwards, we built a well-oiled machine for creative testing.
"
"Admiral is one of the few partners I met in my career who are literally no bullshit. We share a common value to fail fast, but learn faster which was key with IOS14 arriving and the mobile industry-changing".
Vincent Adorian
Head of Performance Marketing, Tier
Process and Benchmarking makes a difference
Our team prepared the benchmarks like CPM, CPC, and CTR then added the desired KPIs we got from the TIER team so that we make faster decisions when doing daily optimization. Then we followed a pretty straightforward if/else approach that works to quickly identify;
Best performing creative to scale and build more variations of them

Non-performing creatives to pause them and decrease money waste

Trends, opportunities to scale, new audience segments, and new channels to expand profitably.

Measure profitability, KPIs, double in size and repeat.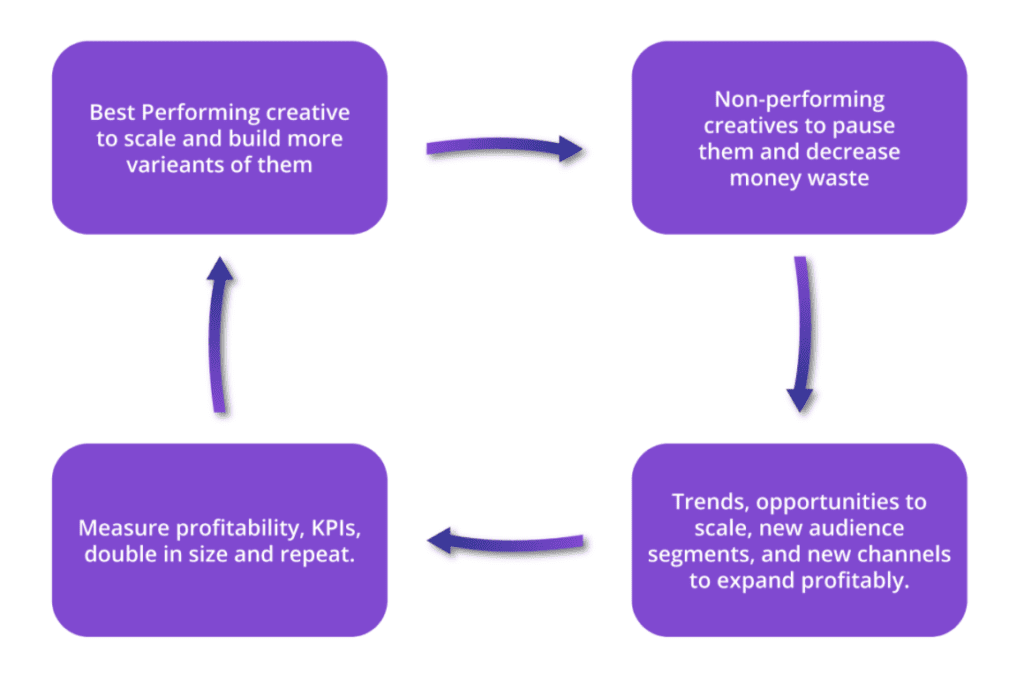 Following this systematic approach, we started with install optimization and moved down the funnel to sign-up optimization once we got enough learnings and enough data within the account. Additionally, we expanded to new ad channels and diversified our user acquisition stack.
However, it wasn't that easy, soon enough iOS14 started hitting us with a ton of events coming with unidentified sources but we were able to adjust our strategy and re-allocated our budgets to make sure we still understand where the greatest value is coming from and how we can scale even more.
Expanded to 2 new channels besides Facebook

+3171 increase in the number of new rentals "CAC"

Scaling acquisition budget 5x in less than 3 months
"
"Besides the scale, Admiral was great in supporting us with reporting & finding answers to our questions about tracking and incrementality."
Vincent Adorian
Head of Performance Marketing, Tier