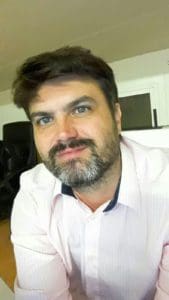 Welcome on board of Admiral Media, Lugão! We are proud to announce that Lugão Garcia has joined the crew as our new Motion Designer. Lugão has a law degree, but funny enough he never worked in that area. Rather he turned to professional photography. Thank to this, he has not only achieved more than 15 years of experience. But he also mastered film and photography with more than 120 advertising films, commercials, video ads, online spots. Not to mention that he also worked with such celebrities as Gisele Bundchen, Alessandra Ambrosio, Ricky Martin, and many-many other international stars. Since the year 2010, he has been also working as a Senior Video Editor and Motion Designer on several creative projects. His skills, wide experience, and talents will be a great addition to our projects. Please join us in greeting our newest team member. Welcome, Lugão! 
Admiral Media is a highly specialized performance marketing agency. For more than 10 years we consult mobile publishers and help them to grow their user base. We successfully manage their global performance marketing campaigns across all digital marketing channels. So basically, you can benefit from a holistic and modern marketing approach that fits your needs. Great success comes from hard work and smart decisions. Sometimes you fail, but we treat failures as success – analyze and improve for next time. Our performance and creative teams live and breath your values and want you to scale and succeed.
How to get started?
BOOK A CALL
Learn how we could help your business grow faster.
Get in touch below.
Drop your details here and we will get back to you.