How to promote your brand or app during the Corona crisis? In this article, we look for the answers. With the Coronavirus outbreak, big marketers are delaying campaigns, reviewing budgets, major spending decisions are delayed, and product or service launches are on hold. While they still need to think long-term and still need to build their brands, they also need to face significant changes in behavior among both consumers and business clients.
In larger corporations, there is a certain budget allocated for event marketing, trade show sponsorships, traveling, conference attendance, and so on. This budget must be redistributed now if business allows it – obviously many businesses are negatively impacted by the situation.
How to reallocate your budget during the crisis?
It's a given fact that any kind of shorter-term performance marketing, sales promotions, outdoor communication, point of sales activations, attending and sponsoring large events would be a failure at this time when everyone is unsure of their future and locked at home.
Therefore, marketers might dedicate more budget and time to developing new or enhancing their existing digital strategies. This means researching where your customers can be found online now, and how different approaches and tactics could impact your success. Starting from a website and social pages refresh, even to a more innovative approach. Content marketing can stay undisrupted, regardless of what the situation is outside these days, and communicating and staying engaged with the consumers has never been more important.
When going back to normal…
When one day the world is going back to normal, this part of the budget might return to live events and other outdoor activities, but if marketers realize the opportunity that they can indeed benefit from more innovative digital strategies, they might consider including it into their long-term marketing plans which could potentially reshape the advertising landscape as we know it.
Stay engaged with your customers!
It is more important than ever for brands to communicate values and social responsibility. And this should go beyond all the "how we handle the virus", e-mails. Your communication should be linked to brand identity, core values, and of course your services. 
Make use of the dramatic growth of various app categories these days and invest in digital marketing & brand positioning in games and all related apps & websites around this topic, music platforms, podcasts, messaging services, live video apps & social networks. We all expected our first weeks of social distancing to feel isolated and distant. But practice shows that we are more connected than ever, thanks to all the digital tools we have in our hands.
Social distancing
New kinds of socially distanced gatherings appeared Skype lessons, cloud clubbing, virtual yoga-gym sessions, online church services, etc. Everyone is suddenly sharing timely information about the virus on social media, and trying to help struggling people and small businesses. The education system is also being reshaped now, online solutions are to be introduced challenging teachers, students, parents, and developers from one day to another across many countries, and hopefully, out of that, we are able to benefit in the future too.
Video is a game-changer in advertising
According to a Cisco study, by 2022, 82% of all online content will be video content. This clearly shows how important it is to start utilizing video content to stay relevant in the social media domain. In the near future, videos will dominate social media. 
Modern audiences are more receptive to content that quickly communicates the message and grabs attention or, in other words, that which provides instant gratification. This has led to the evolution of video consumption trends – specifically a shift towards short-form video. Even now both long-form and short-form videos are among the most-shared content on social media. There will be an emphasis on creative, engaging storytelling that captures user attention in seconds.
Now we need to talk about TikTok as a marketing tool
The emphasis on video means that video-driven platforms such as TikTok will continue to grow in popularity. TikTok marketing campaigns are relative newcomers to the marketing industry. Chinese owners ByteDance introduced the platform to the US back in 2017, before acquiring and then merging it with the popular Musical.ly app in August of 2018, creating a larger video community, with existing accounts and data consolidated into one app, keeping the title TikTok.
The leading destination for short-form mobile video
Currently, it is the leading destination for short-form mobile video and video-sharing social networking services. It is used to create short dance, lip-sync, comedy, and talent videos. The application allows users to create short music and lip-sync videos of 3 to 15 seconds and short looping videos of 3 to 60 seconds. There's also a live-streaming option and a range of filters and tools to help improve your video presentation.
Authentic content
The fundamental draw of TikTok is that it is extremely real, bold, fun, and lighthearted. TikTok's young audience isn't overly concerned about obtaining the perfect shot. Rather, be your authentic self and embrace your flaws while finding a community that does the same. A famous trend now is to post videos around "I used to be so beautiful, now look at me" topic, where people show how "beautiful" they actually look like when they hang out home alone, no makeup, no filters.
Although TikTok is social media's newest kid on the block, the app has had an astronomical rise to the top. Reports in October 2019 indicated that TikTok has so far 450M monthly active users, making it one of the most popular platforms in the world.

About its potential as a marketing tool
Now, with brands and influencers feeling more and more comfortable on the platform, it has truly begun to demonstrate its real potential as a marketing tool. Combined with a quickly growing base of young millennials and Gen Z, TikTok has found itself in the enviable position of being the hottest influencer marketing tool of the year 2020.
And before you think: the current TikTok audience doesn't match your actual app audience, please have a look at the demographics split. It is a false belief that TikTok is a new thing for kids only! Your audience is active on TikTok – maybe not so much as content producers but definitely as consumers.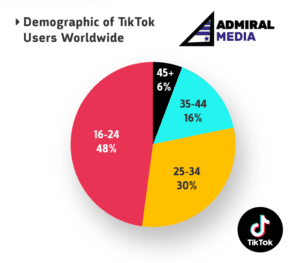 Put your brand in the Spotlight!
Here is a short description of all available ad products on TikTok which you can easily book with Admiral Media. Just contact us and we will guide you through all the opportunities.
In-Feed Video: Ads appear in the native news feed of TikTok on the 'For You' page. If you enjoy Instagram stories in full-screen mode and feel how good they help in advertising, then TikTok 'In-feed native ads' are just the tool for you. These have options for adding website links and order now buttons on the ad itself, which helps users to land on the page directly. These are skippable ads and have multiple options for designing the overall ad. 
Brand Takeover: Ad appears when TikTok users open the app. It completely takes over the screen for a few seconds before turning into an 'In-Feed Video ad'.
Hashtag Challenge: Ad appears on the 'Discovery' page. It encourages users to participate in user content creation challenges. These can include a shoppable component for retailers. The most popular Twitter-inspired activity gathers audiences. It also spreads the brand message organically. Hashtag challenges by influencers are more achievable for their extensive reach. Thus making it a far-flung accepted ad concept. Additionally, it garners a considerable number of organic engagements. In this type of advertising the user gets to see a specific banner ad. That will take the user to the page of instructions and rules of the featuring challenge. 
Other types of content
Branded AR Content: Ad appears as branded lenses, stickers, and other 2D/3D/AR content for TikTok users to use in their videos. These are category exclusives. Hence only a single brand can take up a category per day. The brand takeover ads are effective. Because TikTok marketing tools are simple, user-friendly techniques that have got great effects on branding a product or service.
Custom Influencer Package: Ad appears as part of sponsored content created by a TikTok user with influence in your market.
Your own branded account: Besides sponsored content, advertisers can also open a branded account to have a strong brand presence here. It is useful to reach out to millions of potential TikTok customers, manage day-to-day communication, nurture more leads & organic conversions and build brand loyalty. After making your brand debut on TikTok, developing an organic TikTok content strategy will help you achieve your goals with greater speed and efficiency. Besides the regular content function, advertisers can bring together all branded content. While customizing the page with a purchase link and pin-to-top videos. While also being able to analyze follower distribution & monitor content performance on a data-management platform.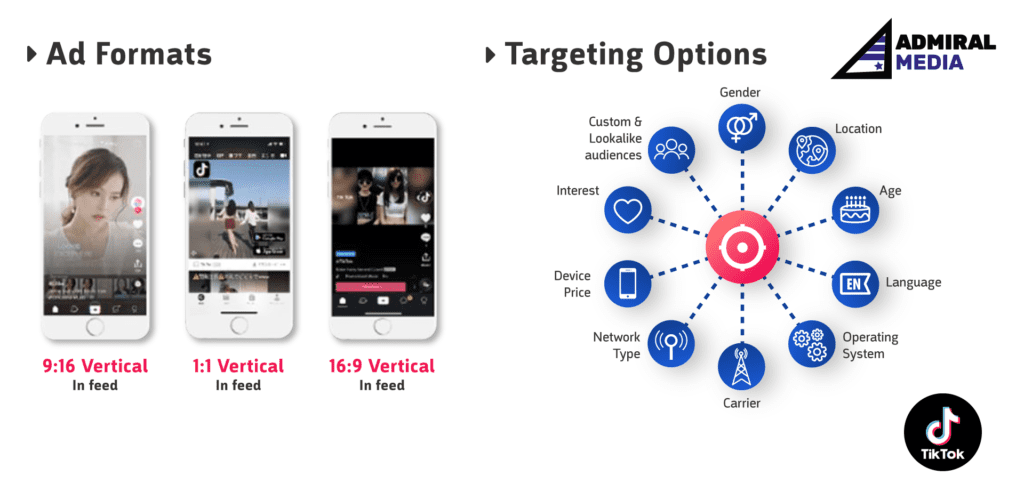 Conclusion
Net-net, TikTok's marketing strategy now has set trends. It has popularity, and reach capabilities which are increasing with each month passing by. Marketers must consider giving it a try this time if they haven't yet done so. Now, TikTok allows first advertisers to use their platform and promote products and apps. We at Admiral Media were one of the first performance marketing agencies to jump on that opportunity. We already run some campaigns for a few selected clients. 
About Admiral Media
For more than 10 years we consult mobile app publishers and help them to grow their user base. We successfully manage global performance marketing campaigns across all digital marketing channels. We run app advertising campaigns on a global scale. And we have the ability to replicate such insights for your own business.
In order to get in touch, you can reach us here.