TikTok has introduced some great new features for businesses looking to advertise on the platform. Here, we break down what these new formats are and how they can help refresh your TikTok marketing strategy. Here comes the list of new TikTok ads to boost performance. 
Lead Gen Ads
The Lead Gen Ads are just another of TikTok's features turning users into customers. Lead Gen ads are fully customizable forms that advertisers can use in-feed. So businesses can create forms and messages tailored to their desired target demographic. From there, users simply fill out a form, providing basic information to express their interest in a product or service.
The information from these forms is essential to reach interested existing and future customers, boosting engagement and helping connect to users. TikTok further helps out with leads that can be downloaded or activated, or basic information approved by the user to share with advertisers.
About the Collection Ads 
Collection Ads hold exciting prospects for eCommerce Ads. In other words, Collection Ads are in-feed video ads that advertisers can use to showcase their products. Upon view, each user is brought to a customizable instant-gallery page where they can swipe through a business' products, storefronts, or other service pages.
These ads bring a new interactive shopping experience to TikTok, making them a fantastic e-commerce solution for businesses. As of now, businesses have reported a 13% increase in CTR and homepage visits from using the feature. Retailers can create landing pages to highlight featured products or discounts in their lineup, and users can quickly click and purchase the item, giving great leads. 
Promo Tiles
Promo Tiles are all about product promotion. You can customize these ads as in-feed tiles that act as customizable shopping cards in the main feed. Advertisers can use them to highlight sales and promotions in major shopping seasons, share discount codes and promote new events. Promo Tiles are fantastic for boosting engagement and actions – advertisers can easily share storewide discounts or events to guarantee that thousands will see it.
Check Our Tiktok Ads Agency
About the Showcase Tiles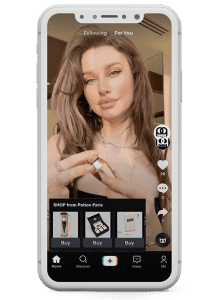 The Showcase tiles take Promo Tiles a step further. Showcase tiles allow advertisers to promote several products in a single ad, allowing for a more comprehensive message. This allows businesses to show off multiple messages and products and view their performance through each CTA, allowing your business to highlight its best-selling products and discounts. Simply customize your ad to fit your needs and watch engagement go up. 
Shopify Partnership
TikTok has now introduced a new feature that syncs your account to Shopify. This way makes running effective campaigns easier than ever. Advertisers can now manage and optimize their campaigns through detailed metrics and insights on video performance. For an additional price, TikTok offers even further comprehensive breakdowns of data performance, boosting ROI in the long run. 
Want to learn more? Take a look at eCommerce Ads or check How much TikTok ads cost?!